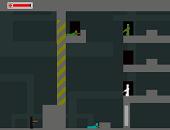 If my senior honours project was this interesting, I wouldn't be complaining.
Hostile Takeover
by
Jared Newman
didn't have a fantastic description, but more information on the game is provided on his site and apparently it's a large metaphor for getting through university. I think this excerpt demonstrates an admirable attitude.
Comments from the Author: When I told Steve Rush that I wanted to make a video game, he thought it would be a good idea to incorporate some sort of symbolism or deeper meaning into the experience. In theory it's a great way to make a video game richer than it appears, but in reality heavy symbolisms aren't as cool as blowing things up. That's why the symbolism I've used is a vague one.
Click here to download the game and read its reviews.