Ricky's Abandoned Games (abandoned)
Author:
Ricky
Submitted:
28th April, 2008
Favourites:
1
Genre:
Abandoned
Downloads:
304
Rated:




Edited By Ricky on 12/5/2008

Edited By -Nel- on 4/28/2008

Edited By -Nel- on 4/28/2008

During summer 2007, I half way finished making "Score Go". It was a platform game, but I lost interest in it, so here it is.
I also worked on Ladders2. It was supposed to be done in March, but I lost interest in this project as well.

So here's my unfinished games open sourced. They contain test levels, some custom movements, and graphics.



Review This Download



http://fb.esnips.com/doc/7161a434-66e8-40e0-aa32-0f94226fb064/Rickygame (1.27 mkb )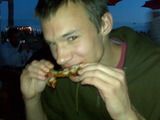 Ricky
loves Left For Dead 2
Registered
28/12/2006
Points
4175







Is this worth a look? Let others know!

Favourite