Zombie Hunt
Author:
Ricky
Submitted:
2nd June, 2008
Favourites:
0
Genre:
Platformer
Downloads:
379
Rated:




Edited By Ricky Garces on 9/16/2008

This game is my entry for the 20 event competition. In this games, you play as a dude in a hat named "Zombie Hunter". The object of this game is to get your magically recharging "green gun" and kill all of the zombies. There are 2 Zones for you to play in and several items for you to collect.

This is an exploration game.

Items:
Ammo: This increases the speed that your gun recharges
Jump boosting Shoes: Allows you to triple/quadruple Jump*
Heart: Pretty Obvious what this does
Gun: Shoots stuff

Controls:
Left- Left key
Right- Right Key
Jump- Shift
Shoot- Ctrl

*Falling off an edge counts as one of your jumps

The Game is open source, but you'll miss out on the exploration if you look at it before you play.

Edit: now vitalized to save you bandwidth





Review This Download





http://www.esnips.com/doc/96abfa45-9d34-491e-92f8-145e6d1dd64b/ZombieHunt (3.39 mb )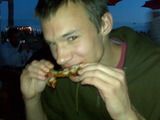 Ricky
loves Left For Dead 2
Registered
28/12/2006
Points
4175







Is this worth a look? Let others know!

Favourite