Uppy Duppy
Author:
Ricky
Submitted:
15th August, 2008
Favourites:
1
Genre:
Platformer
Downloads:
549
Rated:
Game of the Week Winner




Edited By Ricky on 6/11/2009

Edited By Ricky Garces on 9/16/2008

Uppy Duppy is a small platform game about a marshmallow who must make it to the top of the level and save his friends. He has obstacles to overcome including spikes water and the bottom of the screen (the most deadly of the 3). This game is very difficult but you get unlimited lives. There are ten levels plus a level editor.

Controls:
Shift- jumps
Left arrow- move left
Right arrow- move right
down arrow- fall faster/Enter Cannon

This game is open source. I hope everyone likes it.




Review This Download




http://www.gamebuilder.info/world/content/uppy-duppy (2mb )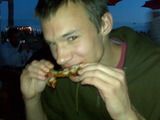 Ricky
loves Left For Dead 2
Registered
28/12/2006
Points
4175







Is this worth a look? Let others know!

Favourite