Mine kart
Author:
Ricky
Submitted:
6th January, 2009
Favourites:
0
Genre:
Abandoned
Downloads:
281
Rated:




Edited By Ricky on 1/8/2009

This is a little program i made few months ago that lets you build tracks. It uses a kind of flawed engine has poorly done acceleration. The mine kart is pretty much glued to the track you build until it reaches the end of your track.

There are no interesting features, no loops, no saves. This is open source.

You can play with this until PRC is done



*new
A smaller version for vitalize:




Review This Download


http://rickygames.googlepages.com/minekart.zip (30kb )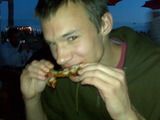 Ricky
loves Left For Dead 2
Registered
28/12/2006
Points
4175







Is this worth a look? Let others know!

Favourite