Yab
Author:
Ricky
Submitted:
24th April, 2016
Favourites:
0
Genre:
Platformer
Downloads:
88
Rated:




Edited By Ricky on 24/04/2016

I meant to put this up here last year but I forgot.

This is Y.A.B.
You Are Blue
Bad Stuff is Red
Special Stuff is Green

This is a platform game where all you gotta do is not touch the red stuff, and touch the other blue guy. Use the arrows to move, space to jump, space again to double jump, and hug the walls to climb them.

I made this game a while ago and uploaded it to a few flash portals. Few people played it. I'm including the source code in the download file if you wanna see how I made the lazers

(you'll need fusion 2.5 though, sorry)




Review This Download



http://dl.dropboxusercontent.com/u/3555710/Yab.zip (22 mkb )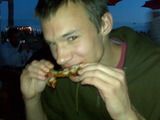 Ricky
loves Left For Dead 2
Registered
28/12/2006
Points
4175







Is this worth a look? Let others know!

Favourite