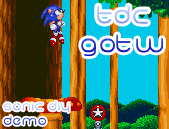 Sonic DIY Demo has won this weeks Game Of The Week. BUT! In future I will not be including demos any more. The only reason this is up is because I think its an incredible program, and well coded. But anyway, congratulations to Clwe for this weeks GOTW.

Click here to download the GOTW

This weeks contenders for GOTW are, after struggling to find something somewhat decent... - Lennart Viking Chapter 2, Catch The Apple, Ghoul Boy and Meteor

Yes, life here at TDC has been very weak this week, with plenty of mediocrity and worse being submitted. Please remember to add good descriptions and screenshots, and your game may have a better chance at reaching Front Page Status, and ultimately a ticket for GOTW contendership. Also, don't forget that us TDCers do NOT take kindly to mass submissions to boost DC Points. That means YOU, Rude Head!