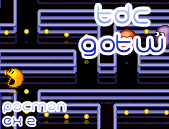 The modified bonus game from Pacman Worlds won this weeks Game Of The Week. Congratulations to Danjo, who created Pacman EX 2. A worthy mention must go to the Spiderhead Demo, which came pretty close.

Click here to download the GOTW

Another fairly quiet week this week, but this time, we have two non-games included for the next GOTW nominations, which are - Doodles, MuteGibe, Bouncing Break, Arena Runner and Reminder

Good luck to all the participants this week. I wish to state though, that Total Fugging Massacre (yes, I edited the name so it would be more likely to be accepted at TDC) will NOT be a GOTW candidate, as its a very old game!