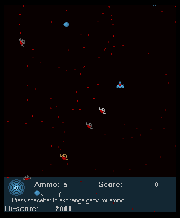 An almost endless game set in space here, created by KeyrenZero. The objective is to collect gems whilest avoiding enemies. Rounder..? is the name of this game, and it sounds like a lot of fun. Comments from the Author:
"I guess it is a lot like Clone X, (his other game - Circy) in that it doesnt ever HAVE to end. You are a space ship this time, and when you start, there is a gem in the middle of the screen. pick it up, and another one appears! But so does some evil robot that likes to go around in circles around it!!! Get the new gem AND ANOTHER GEM APPEARS!!! AND ANOTHER EVIL CIRCLING ROBOT!!! "


Click here to download the game and read its reviews


Quick note about GOTW: I'm still unsure of what Rikus' and Clubsofts plans are for GOTW #100, so for now, and once again, I'll leave the GOTW poll blank.