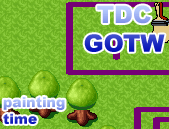 Painting Time, by Jambo, has, at this moment of time, won the GOTW award for this week. Congratulations! Here's the list for this week... hmm... wonder who's going to win... a toughie, this one.

Click here to download the GOTW

This weeks entrants - Jonny RPG, Pizza Delivery, 1337 7|24|\|51470|2 (don't ask XD), and Sat-Elite. Four choices. One winner. Who will it be?

Eventful Moments Of This Past Week:

Andi Smith actually posted at TDC with his "regular" Goldmine feature! Andi's definition of "Regular": When he can be bothered to post ;)
Flava [Lime] has created an image uploader script for his own hosting, so there's no excuse for not having any screenshots any more. Check a few posts down for more information.
You've all now got under three weeks to upload your entries to the TDC Christmas Competition. Still enough time, but you might want to start considering tidying up if you're entirely serious about winning that main prize :D
Tigerworks has started an interesting thread about hype. Good or bad? Have your say...