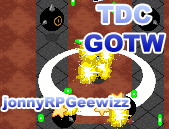 The winner of GOTW this week, hardly surprisingly, is JonnyRPGeewizz, by the egomaniac Jon Smeby. It's a very strange game indeed, but well done for winning!

Click here to download the GOTW

This weeks entrants - PakkMan, Pacman XP, Message-It, Kyoto Village, and PuzLox Blox.

Two Pacman entries. One is good. One is not so good. Which one though, is better? You decide!