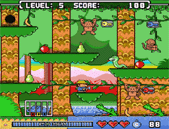 After a very short time long time in development, Chris Och has finally released the highly anticipated Super Stun N Run. It's a work of pure genius, it really is.

Comments from the Author:
"The animals have gone wild!! You are Parker, a safari explorer armed with a stun gun, and it is your job to free the baby animals that are caged in each level of the island."