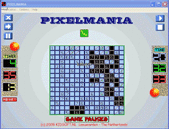 Minesweeper clone here. Created by Harry Vissers (who also created the recently added Sudoku game, which I also believe is the first klik Sudoku game), this game is called Pixelmania.

Comments from the Author:
"If you like to play Minesweeper, then PIXELMANIA will become your favourite. With minesweeper the numbers inform you about the amount of mines surrounding the number. In PIXELMANIA there are no randomly placed mines, but you have to find the picture underneath the playfield."