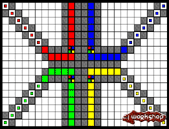 Also today we have a puzzler called Colour Rush. The game sounds very complicated and I'm not going to even try to explain the concept; I'll leave that down to C.J Workshop! There is more to explain further still, on the download page itself.

Comments from the Author:
"The gameplay is very fast and will make you think about every move you make.The player uses the mouse to navigate through the levels. The player must allow colour lines to reach both sides of the screen. To do this they will need to alter the colour blocks. When the mouse clicks on a colour block the colour is changed allowing the colour to carry on down its line."