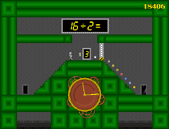 I had a DC Mail today from fellow admin David Newton, who was literally begging me to put his new project Treasure Tower on the front page of TDC. In fact, he was grovelling so much I really thought it was pretty pathetic. And funny too, that he was reduced to such low levels.

Comments from the Author:
"This will be a much more simple game than my last project as far as gameplay is concerned, but it's more technically involved. As implied by the working title, the object is to work your way through a tower that's built at random from a library of rooms, collecting as much treasure as possible along the way. The challenge comes from the clock - as can be seen from the screenshots, this large timer is displayed on every screen and you'll fall to bits spectacularly when it reaches midnight. The good news is that you'll be able to top up the timer by finding food inside the tower."


Click here to read and comment on the preview


PS: The grovelling and begging bits might be slightly untrue.