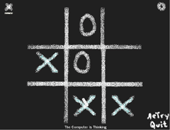 Kevin Haag has uploaded his take on naughts and crosses - Klik Tac Toe - to TDC. Worth a look, especially as it features computer AI as well.

Comments from the Author:
"This is my Klik interpretation of Tic Tac Toe or as it is known in some parts of the world, Naughts and Crosses. It features Single player modes and Multiplayer modes. In multiplayer, two people can alternate turns by taking turns using the mouse to click the square you want to occupy. "