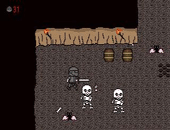 A game which I overlooked a couple of days ago has now made it's front page appearance: Captain Of The Guard, created by Del Duio is an RPG, and it took one year to make.

Comments from the Author:
"After some serious thought, I've decided to say "The hell with it!" and release the complete full version of Captain of the Guard to TDC, as there is a ton of things to do in it and whittling it down to demo-size I thought would be unfair to the game. If you add it all up, this is about 1 year's work. All graphics, music, voices, and most SFX are all original and done by me. The title song was the first MIDI I ever did, in fact. The few people who have played it really like it, so here it is!"