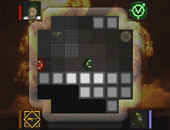 Pixelscope has resubmitted to TDC his online multiplayer shoot-em-up M.U.R.S 2, with various bug fixes. It uses DPlay to work, but if you can't get it working, there's always the offline training mode.

Comments from the Author:
"Society's fall - 20 years from now. After countless incidents of local wars and terrorist attacks the resistance force had grown bigger and stronger, but so had the Interpolice Corporation. And so the situation was getting more and more intense. An eastern rage started to take form within the western communities aswell. History had finally proven what was the result of capitalism. The red sun stood high as the worldwar was coming to an end. Worldwar X. The final and definite war. Only a few living creatures would stand once all the others had fallen. On this matter you are to decide... "