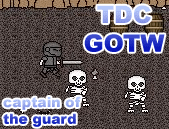 The rather unknown Del Duio wins his first GOTW award at TDC, for his RPG Captain Of The Guard. Hopefully he won't be as unknown for much longer :) Radix came second in the poll for his shoot-em-up 2Elecsy.

Click here to download the GOTW

This weeks entrants - M.U.R.S. 2 (1.911), Mr Dood's Arena Challenge FIXED, Phazer Tazer, and Lyle In Cube Sector.

Yes, M.U.R.S 2 is an old game, but it has been greatly refined since its release two years ago; that's why I'm allowing it a GOTW chance.