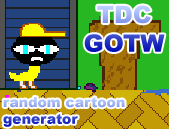 In a true week of submission death, this time the winner of GOTW is GHX YK2 for his Random Cartoon Generator. It polled twice the number of votes as the next most popular game - Across.

Click here to download the GOTW

This weeks entrants - Brigade Online, Dizzy King Of The Yolkfolk, Dizzy R, The Misadventures of Sigfreid the Dark Elf on Tuesday Night, and Bouncy Ball.

So... two Dizzy fangames and a game with quite possibly the longest name in the world - aside from Peter Jacksons King Kong: The Official Game Of The Movie...