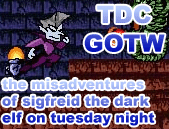 A winner is Shroomlock!!! His game The Misadventures of Sigfreid the Dark Elf on Tuesday Night was rather dominant in the GOTW poll and proved to be pretty popular. Now never make me cram a name like that onto a GOTW image again.

Click here to download the GOTW

This weeks entrants - Umbrella, I'm OK, Smiley Mission, Commandline Launcher for MMF Games, Another World Memory FreeBASIC, Tails Ring Chase, Planet Descent, Zero The Hero: The Lost Floppies, and Countdown Screensaver.

And on that note... I've decided that this will be my last update for a while. Aside from posting up the eventual competition results, you won't really see me performing any admin duties here. I think I deserve a break from that, although I'll still be around. I'll probably be back to work in about a month or so, maybe more. Seeya.