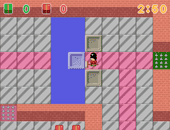 Hayo has submitted a new game to TDC - it's very similar to his other game Dungeon TV Easter Special. This time however, the game is called Dungeon TV Factory...a big difference!

Comments from the Author:Here's another game by the Peasants, just to prove we are not dead. This game was originally made for the Caiman total pack contest, we won some money with it and then took out some bugs, and here it is.

Click here to download this game and read its reviews.

While I'm here I should apologise for the lack of front page game updates, I've had a bit of a traumatic week and have been admittedly quite lazy.