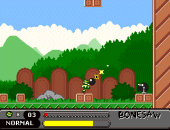 A preview for this game was submitted to TDC last week by Xerus; however, it was overlooked by us lazy admins... until now. TA-DAA! Anyway, the game is called Bonesaw: The Game and it looks darn sweet. Check out the trailer for the game included in the preview.

Comments from the Author:Do not try to understand the basis of this game. The whole thing comes from something that goes down at my college's hockey games. But I'll try to throw you the basics anyway:

You play as a hockey player who's only mission is to savage the country side using the power of the legendary weapon... the Bonesaw. There will be a lot of levels, and some bosses, and some collectables. Players can beat the crap out of their enemies using their arms, legs, hockey sticks, and the Bonesaw.

Click here to read more on this game and read its comments.