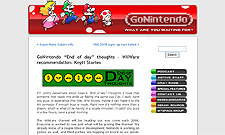 Everyday i make a visit to my most favourite nintendo site (gonintendo.com) And on the site the site's editor Kevin Cassidy makes his always fun to read "End of day Toughts" editorials. Now today to my surprise, he was talking about having Indy games on the upcoming new WII Channel. Specificly about our recent upcoming game of the week winner: Knytt Stories! Including screenshots of the game and talking about how great it would be if someday this game could appear on the wii.
I recommend to give his Editorial a read, he brings up some very good points. I also directed him back to our little place on the web so he can check out many more cool games from our community. The editorial is great exposure for Knytt stories and we could not happier.
Comments from the Kevin about Knytt stories:
My hope is that one indie dev, Nifflas Games, will one day grace the Wii. The most recent release from Nifflas (a very small team) is Knytt Stories. Not only is this one of the most endearing/charming games in recent memory, it deserves to be among the ranks of some of the best games ever…period.

Click here to read Kevin's full editorial on gonintendo.com.