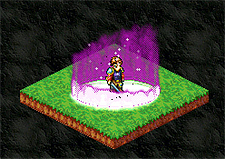 When i was reading the description of
Kisguri's
latest object i smiled, and i have not been able to stop smiling since! The ultra cool Flame object is here!! And folks, it rocks! Check the description and be amazed, what a great couple of weeks it has been for clicking. I can't wait for someone to take full advantage of this object in any upcoming game.
Comments from the author:
With the Flame Object you can now create awesome looking effects in your Multimedia Fusion 2 app with ease. Create Flames, Fireballs, Waterfalls, Shimmering Light, Plasma, Scanner Lines, Smoke and more with this powerful object and some of your imagination! Flame Object comes complete with a Gradient Maker and a full library of pre-made effects to drop into your app!


Click here to download the object and read its reviews.