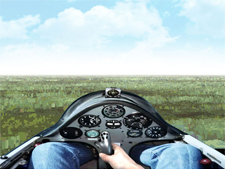 Wow, look at that
Claudio
made this very well made 3d engine in mmf 1. This might have taken him a while to create but the results are outstanding!
Comments from the author:
It's the basic engine for a Flight Simulator. Just real-time 3d: it uses both the standar 3d Object and the Mode 7 extention by Cellosoft. I wanna show that even the old Multimedia Fusion is good enough for simple 3d programs. I did myself all the graphics (texture, 3d objects, toon) and code. Let me know what you think about it.

Click here to download the engine and read its reviews.