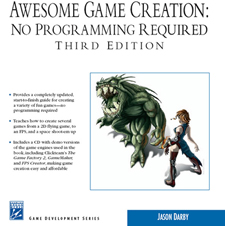 Just wanted to let everyone know about a new book Called: Awesome Game Creation this 3rd Edition written by
Jason Darby
. Jason has been succesful in writing this very well written book on game creation. The book now has its very own website so to be sure to have a look at it.
Comments from the author:
There are thousands of more game players today than there were in 2000 and many of these players want to know how to make their own games. Most of these people are not programmers, however, so they need a non-programming why to learn and that's why this book works so well! Awesome Game Creation: No Programming Required, Third Edition teaches game enthusiasts and aspiring developers how to create your own computer games without programming skills. You'll learn how to make and modify your own interactive 2D and 3D computer games. And, you'll learn how to use a variety of development tools, including The Games Factory 2 (latest version), GameMaker, and FPS Creator (new to this edition). This is a great way to learn the basics of game design and creation without having to learn how to program!!

Click here to go to the website.