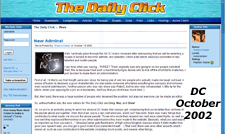 Soo actually it was October 19th 2002 when both Circy (Chris) and Muz got hired to be the new Daily Click Admins! Shen was in there to but he left. So in that case lets give both Chris and Muz some big congrats on surviving and still taking care of the site after all these years!
Comments from the original 2002 news post:
Well, I've finally gone through the 68 DC mails I received after announcing that we will be selecting a couple of people to become admins, and selected 3 from a list which obviously consisted of very talented and worthy people. But, like I said, there was a huge number of people who deserved the position, but alas not everyone can be made an editor. So, without further ado, the new editors for The Daily Click are Circy, Muz, and Shen!

Click here to go to the full 2002 news post.