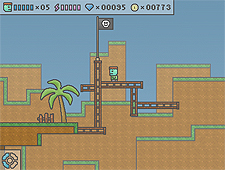 It has been a bit of a slow week but with Zenek Zombie
McO
is starting the weekend off with a bang. The game is a fun filled platformer that does not disappoint!
Comments from the author:
Zenek Zombie is a platform game with elements of adventure and role play. Player takes a role of Zenek who is looking for his kidnapped wife. He walks through the world full of enemies collecting money and diamonds. You can use money to buy some healing potions, buy new lives, gain higher magic level. Diamonds can be also gathered by finishing quests throughout the game.

Click here to download the game and read its reviews.