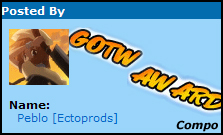 And the best idea this month goes to:
Peblo!
He started a forum topic where he is asking for folks to create a new game since no games where submitted this week (wow) Visit the forums for more info on the link below.
Comments from the author:
Okay, no games have been submitted this week. So here's a small compo, with GOTW as a prize... Make a game before an admin gets around to doing GOTW tomorrow (might be today depending on where you live). Time limit: Dunno. Probably inbetween 3-20 hours. Theme: I don't care. Scoring: Thumbs After the games have all been submitted, all of TDC will have a chance to vote on which one gets the prize.

Click here to read the forum topic.