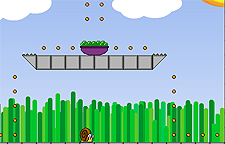 Oh look at that the main character (Created by
Pozik
) is a snail, so what are you waiting for time to feed good ol Slimer! The game also features a online score mode, time to get crackin!
Comments from the author:
In SLIME the Slimery, your main objective is to lead the Slug basket with food.

Click here to download the game and read its reviews.