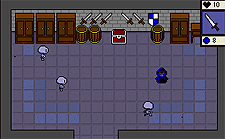 Hey look at that a new update!
Del Duio
brings you his latest share ware game for free! Oh and on a sidenote KlikCast episode 2 should be ready this weekend, woohoo:)
Comments from the author:
A great war was waged between the forces of good and evil. Many on both sides were lost, but in the end good won as they always do. The leader of evil, the foul necromancer, was killed by his own blade and put to rest in a forest tomb with his magic spellbooks..

Click here to download the game and read its reviews.