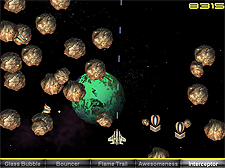 Get ready folks for the next classic: Spacefest created
thewreck
is going to knock your socks wayyy off! This is a must download!
Comments from the author:
Its a space shoot 'em up with a unique control style. Since it was created in such a short time, we only focused on making one level, trying to get it as fun as possible instead of making many boring ones.

Click here to download the game and read its reviews.
Also lets give our top reviewer
Shroomlock
a big hand! He wrote the following excellent reviews. Very well written Schroom! Here is a list of his latest reviews:
Click here to read the review written for Spacefest written by Shroomlock.
Puzzlebox.
Gemfusion.
Velocity Dodgeball.
Zan-Zan: Episode Two.
Plasma Warrior.
And Timetravel Bloboid written by Shroomlock.