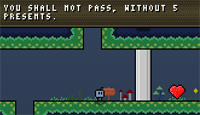 Get ready for those tissues cause this is the last action filled game for Zan-Zan. -sniffles-
Comments from the author:
The final episode in the Zan-Zan series, for the time being anyway, will this quest see the end of Zan-Zan's quest? Let's see! This episode is approximately 8 times bigger than any other episode, dev tools included as usual.

Click here to download the game and read its reviews.