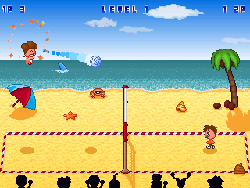 Take off those snow boots folks because
Beppo
is back with THE game to get you back in the mood for summer. Join the fun in Smash Face Volley!
Comments from the author:
It's summer, so what better time to play beach volley? Come on, get ready for the tourney! Choose one of the 20 idiots and win 8 matches around the world, in different physical conditions, for the final prize... Every time you win the tourney you should unlock one of the 5 secret players! You should also play with friends and strike them till death!!

Click here to download the game and read its reviews.