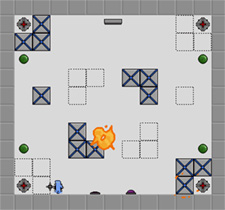 Bombing Room created by
Hempuli
is a very nifty game with a very high "I can't stop playing this game" setting. Check it out if you dare to have some fun.
Comments from the author:
Finally something that isn't purely a puzzle game! Bombing Room is a platformer, that resembles Jetpack (Adept Software, 1993), Tekkyuuman (Ikiki, 2007) and maybe a bit of N (Metanet Software, 2005). The idea is to lead a lonely sledgehammerman to freedom by collecting strange green orbs. The game features a level editor, and many campaigns. Post your own to http://hempuli.6.forumer.com

Click here to download the game and read its reviews.