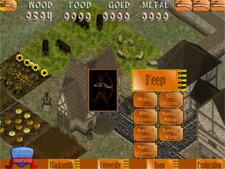 Dragons! Swords! The Smell of fresh cut grass on a cloudy afternoon. Its all here in Kingdom Realms and its waiting for you!.
Comments from the author:
Around 300 bc a number of grecians decided to leave greece. Fed up with the ongoing strive and wars they left in search of a better place to live. after weeks of travel the grecians arrived at an island, unknown to them. They lived for many years on the island in peace. Many years later, young man discovered a cave with an ancient tomb in it. besides much treasure a number of fragments of stone with strange inscriptions were found also. A governor of on of the kingdom realms financed a number of expeditions to various ruins and caves on the island to find more of the fragments of what had become known as the lost stones. But.... a passage was also opened to unknown regions under the island, unleashing a number of fierce creatures.

Click here to download the game and read its reviews.