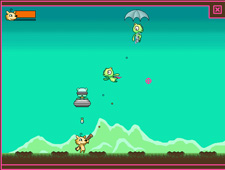 Its only got 1 level but it sure is fun. Try this new game out and let the author know what you think because we just need a full version of this!
Comments from the author:
Version 2 of Psycho is basicly thesame as V.1 (dont think anyone has played that) but with improved graphics. You can walk left and right while fighting enemies with your mouse. It has 4 difficulty levels so dont complain its to easy/hard. Non-gamers do find it hard to move and shoot at the same time. Anyway it has only one level so far but its meant to be played if you are bored or have only little time. Tell me if you like it! Oh and please note the game has some blood and violence... Cartoon violence but just so you know

Click here to download the game and read its reviews.