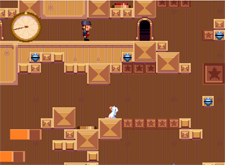 Can't believe i missed this one last week.
Jimbob
presents the ultimate mousey game. The game is just lots of fun with some great attention to detail being spend on the game, its a winner, go check it out.
Comments from the author:
Unfortunately, Hickory can also get squished by the many moving platforms, the pointy screws that are lying around, the switch blocks and the other inhabitants of the clock: the toy soldiers and the fine cuckoo. Fortunately, however, it all works like clockwork, and there are various switches around that can change the direction the clock moves or move certain blocks away. Some jumps need to be timed with one eye on where the second hand lies.

Click here to download the game and read its reviews.