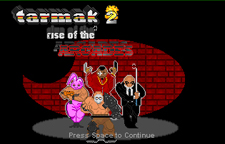 Just like that
8do
gives us a great action game. With classic game-play and graphics you will have a hard time to stop playing this one.
Comments from the author:
Tarmak 2: Rise of the Arcades The ultimate experience in vintage geek pixel-art cyberpunk adventure. Take control of the arcades gang and start a turf war to win back your reputation and control over the Westside. From the shit filled sewers to the lurury offices of big corporations. From the wrecks of the caryard to the chicks of the city's hottest nightclub. You'll have to roam the streets and alleys of the metroplex and the most remote corners of the matrix to silence the "opposition" and get your rep' back. So, grab a weapon. A broken bottle or a good old colt. Buy as much drug as your pockets can handle. Round up your gang and strike your enemies quick and hard.

Click here to download the game and read its reviews.