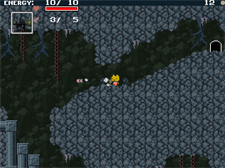 Now this is something great and very impressing.
ThePodunkian
released a level editor for his upcoming Underside game. You may just never leave your computer again after downloading this folks.
Comments from the author:
The Almighty Paintbrush is a mod and level editor for my work in progress game, The Underside. With it, you can create your own stories, levels, or even mini-mods that replace sound effects/music/graphics. The Almighty Paintbrush comes with the original TU game preview that was released awhile ago, as well as two short mini-mods that are provided as examples of how to do things with the engine. The included preview contains the same 2-5% of the game that was released for the older preview, though some of the dialogue has been changed.

Click here to download the Editor and read its reviews.
Oh and Ps. I put up a new poll today called
Do you think you will still visit the site in 5 years from now?
Let us know:)