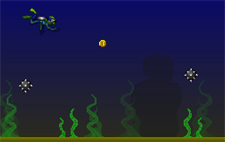 His name is DAN diver DAN. Join him in his new underwater adventure. Gold and Bubbles could be yours for the taking .... I love DA Bubbles!
Comments from the author:
Take control of Diver Dan on your quest for sunken treasure! But watch out, those mean sharks, inky octopus, and deadly mines stand in your way. Collect gold coins for a point boost. It's time to dive!

Click here to download the game and read its reviews.