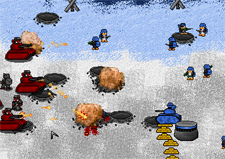 Its been a while in the making but
Fredrik Ortmon
finally finished his game War Of Antarctica. Its a great real-time strategy game that should not be missed, it has so many features you will be playing this into the night!
Comments from the author:
War of Antarctica is a Realtime strategy game which takes place in antarctica and looks like a red alert clone. The evil Wildboars are planning to invade antarctica and the penguins must defend their country at all costs. Choose to invade or defend antarctica. Features -2 playable sides -10 various levels for both sides, -11 controllable units, -Great music, -Blasting soundeffects, -Good voice-acting, -Amazing story, -aproximitly 8 minutes of CGI

Click here to download the game and read its reviews.