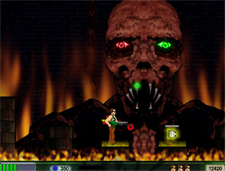 Start off the weekend right by downloading Ahkan created by
Sneaker
a high quality game in which you are a bad-ass janitor.
Comments from the author:
In ┼kthan you take the role as Jack H Diesel, a janitor employed at a top secret govermental science facillity. During his many years in janitorial service for the company he's been unintenionaly sucked into the secrets and lies surrounding the project. One day when one of the headscientist named "Xela" starts and uprising and starts to kill other emoplyes with his loyal army of zombies and robots. Jack knows what has to be done, and without fear he heads out on the most dangerous and terrifying experience of his life, he's going to get Xela, no matter what

Click here to download the game and read its reviews.