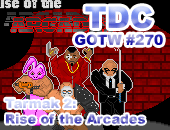 It was a close one this week, but Tarmak 2: Rise of the Arcades, created by 8do, managed to win it with 18 votes. Not many people seemed to vote last week - lets see if we can get a few more votes this week! Congratulations 8do!

Click here to download Tarmak 2: Rise of the Arcades and read it's reviews

I reckon this will be a close GOTW this week - there are a lot of amazing games up for you to vote for. I don't even know which one to chose.. Anyway that's what a poll is for, so here are your options:

Diver Dan , Those Pesky Parachutists , Retrospect , War of Antarctica , Last CHANCE , ┼hktan

UPDATE: The game ┼hktan has been removed from GOTW because of multiple votes from the team behind the game - and that it's also a demo. In addition to this, another person has recieved a warning for voting a few times on another persons game. We do keep tabs and cheating will not be tolerated - Chris

Remember to also vote in the new general poll (you can see the news post below). And for those wondering, The Weekly Click will now be posted every week on a Sunday (last week's was posted on a Friday) so you can expect the next one tommorrow.