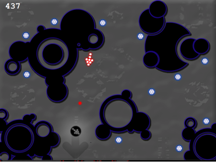 Sorry for my recent lack of updates folks, a nasty flue bug got me and i'm currently surrounded by a billion tissues and a blanket, lol. Anyway check out the download page for some new games, here is one of them ArrowRun created by
TropicComments from the author:
ArrowRun is Action game. We move arrow in black circle. You won't cause a collision between arrow & other background. You're mission is catch all "blue atoms". This game have 7 levels. Do you like hard and dark-skate style games? This game is for you!

Click here to download the game and read its reviews.