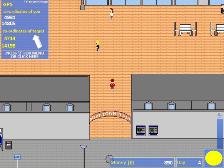 I'm still sick and strange noices are coming out of my nose, however Ransom created by
Craig Tait
did make me feel better. If you are ready to dive into a great new adventure, its time to click the download button. Thank for Nim to pointing me to this game, its a keeper.
Comments from the author:
You are Jake, Amy, your girlfriend has just been kidnapped and a mysterious man has just phoned your mobile and told you to have to find £3000 and do whatever he says if you ever want to see her again. Welcome to 'Ransom'! Jake is just an average, good natured bloke, but his life, and Amy's, is no longer in his control. He will have to do whatever nasty job is given to him by the anonymous voice of a man on his phone.

Click here to download the game and read its reviews.