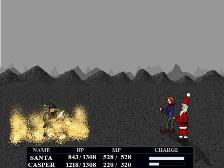 The games from the Christmas compo are starting to come in. Here is the Second place winner created by
3kliksphilipComments from the author:
Santasatnas recently came second in the Christmas Click Competition 2007. Over the last couple of days I have fixed all of the known bugs (Yes, there were loads of them) and have managed to make this game fun to play. It is now possible to complete the game. Ahem. Santasatnas is an RPG, much like the Final Fantasy series. It contains some of the darkest, sickest humour you will ever have heard in a click game and possibly the most terrible voice acting ever. In a good way. You play as Santa and have to find out why all of the snow in Greenland is melting. You meet up with an Elf called Casper, who doubles your fire power and quadruples the programming complexity of this game. You can customise your characters, giving them specialities, as well as dressing them from an extended range of clothing, including SPARTAN PANTS. We'll let you see for yourself.

Click here to download the game and read its reviews.