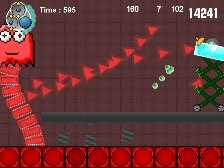 Ranger Tank created by
Fifth
is a game entry for the recent ended spriteset compo on the v-cade. In the compo users had to make a game only using a select set of sprites. The result for this game is pretty cool actually.
Comments from the author:
In Ranger Tank, you control a tank with a sort of a scissor-lift built into it, which you can use to quickly maneuver the tank out of danger. The game plays a little like a shoot-em-up and a little like a platformer. It's only got four levels, but it gets fairly tough before the game is done. The lift takes a little getting used to, but the workings of it all are explained within the tutorial. And the link goes to the game's Vcade page, so you'll need Vitalize installed to play it.

Click here to download the game and read its reviews.