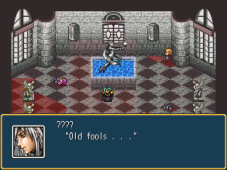 Its RPG Week here at the DC it seems. Today
Ben Warren
submitted his latest rpg game called Shadow's Reach. Do check it out and give your opinion on the game. It is time to turn the lights off and emerge yourself into another story...
Comments from the author:
A classical RPG set in an original world of high-fantasy. SHADOW'S REACH blends a rich and detailed worldsetting with a compelling storyline and a wealth of mini-games. Shadow's Reach is an RPG in the traditional sense, I've done relatively little to modify the basic workings of RPG Maker 2000, but have been able to push those systems into new and interesting dimensions. At heart it's a game about character, mixing a strong plot-driven story and collection of interesting characters with a multitude of mini-games, subquests and missions that should help to waylay the linier qualities of the main adventure. Effort has been made to turn the world into a rich and interesting world-setting with sub-stories and a history to explore.

Click here to download the game and read its reviews.